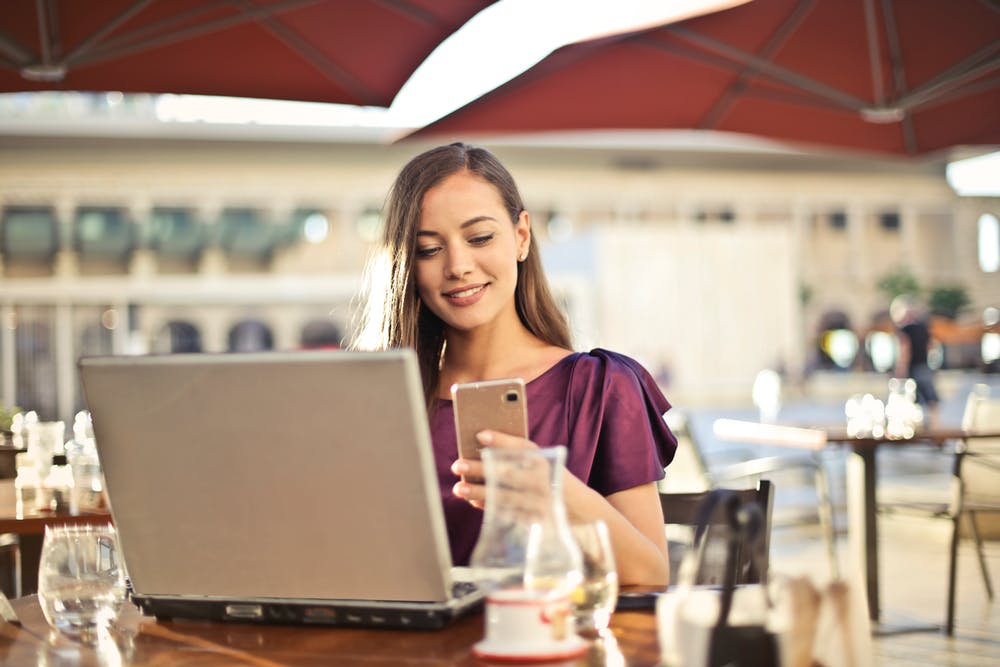 The temperature is going up and the sunny days are becoming more and more, and you're still stuck at work. While missing out on a perfect summer day may be make the work week feel like a punishment, there are a few easy hacks to making the most of your summer while you're at work, and they don't involve playing hooky or faking sick.
Make A Great Playlist
Nothing makes a mood change faster than a great, fun playlist. From fast electronic to groovy rock classics, making a great playlist can really help to boost your mood and keep that bounce in your step while you work on a sunny day. Not sure what to play? Spotify has tons of pre-made playlists to keep you working for the weekend with extra pep in your step. Did somebody say Dock Rock?
Move Outside
Need a little fresh air? Take your laptop outside! Instead of getting your quick and easy mobile order from Starbucks, try sitting on a local cafe patio while you sip your soy latte. Soaking in a little sun and getting outside can help to boost your mood, productivity and even help you get a little jump start on that summer tan.
Ice Cream Office Culture
Think coffee is the only common thread with your coworkers? Not a chance! Why not switch up the usual afternoon java for some tropical popsicles or ice cream cones? Not only has a positive office culture recently proven to help lower stress and anxiety, it is a great way to take a minute to enjoy a slice of summer and get to network and socialize with your office mates. Not to mention, you'll quickly become the most popular one in the office!
Friendly Fridays
It's no secret that you're likely watching that clock slowly tick by until 5pm on a Friday. However, when the weather is nice, why not relax a bit after work? Instead of sprinting out of the office to race to a busy commute, why not hang back a bit? Hit a patio, walk in the sun for a bit of the way, or ask some office mates to grab a cold beer. Ending the work week with some relaxation can help you to destress and prepare for the perfect weekend – weather permitting!
Change Up Your Commute
Morning commutes can be a real mood killer, especially when it is hot and sunny and you're on your way to a long day at the office. Make the most of it! If you take public transit or live close, why not try some walking or biking to get a little exercise and time outside before the day starts. Trust us, this is a huge mood booster! If you drive to work, try avoid the stuffy highways and leave a bit earlier for the more scenic route. Pop the windows down, put on some tunes and enjoy a more relaxed ride into work, you won't believe the difference it will make.
Switch Up Your Schedule
While many entrepreneurs can make their own hours, that's not always the case for everyone, especially employees. However, there are some ways to still snag some extra sun time during the work week. For one, if you make your own hours, try shifting them a little. Coming in an hour early can help you to leave a little early on a hot Friday afternoon. Reporting to someone higher up? Suggest the idea! Plenty of small businesses offer their employees "summer hours" and allow for the schedule shifting on Friday afternoon – Always worth asking!
Lighten Your Lunch
When it's hot and sunny and you're stuck inside, the last thing you want to do is weigh down your mood even more with a heavy lunch. Try lightning up with some fun naturally flavoured waters throughout the day and a salad for lunch. Keeping it light can keep your energy level up and give you that extra boost to enjoy the daylight hours after quitting time instead of going home to slump down on the couch!
Being stuck indoors during the summer months can be tough, especially when the sunny days first start rolling in. However, keeping up with these few simple tricks can really help you to make the most of those short summers, even if it is only a few extra hours a week. So go ahead, relax, it's summer after all.